Wu, Ming-Chya / Adjunct Professor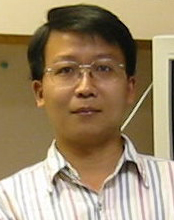 Contact Information
886-3-4227151
mcwu [at] phys.sinica.edu.tw
Education
PhD., Institute of Applied Physics, Chung-Yuan Christian University
B.S., Department of Physics, Chung-Yuan Christian University
Secretary
Rao, Cindy / 886-2-2789-8916
Research Interest
Statistical Physics
Time Series Analysis
Biophysics
Experience
Professor, Department of Physics, National Central University
Research Fellow, Research Center for Adaptive Data Analysis, National Central University
Joint-appointment Associate Research Fellow, Institute of Physics, Academia Sinica
Associate Research Fellow, Research Center for Adaptive Data Analysis, National Central University
Adjunct Assistant Professor, Department of Physics, National Central University
Joint-appointment Assistant Research Fellow, Institute of Physics, Academia Sinica
Assistant Research Fellow, Research Center for Adaptive Data Analysis, National Central University
Publication
Journal Papers
[1] C.-N. Chen, C.-K. Hu, N. Sh. Izmailian, M.-C. Wu*, 2019, "Specific heat and partition function zeros for the dimer model onthe checkerboard B lattice: Finite-size effects", PHYSICAL REVIEW E, 99, 012102. (SCIE) (IF: 2.529; SCI ranking: 35.3%,14.5%)


[2] N. Sh. Izmailian, M.-C. Wu*, C.-K. Hu, 2016, "Finite-size corrections and scaling for the dimer model on the checkerboard lattice", PHYSICAL REVIEW E, 94, 052141. (SCIE) (IF: 2.529; SCI ranking: 35.3%,14.5%)


[3] M.-C. Wu*, J. G. Forbes, K. Wang, 2016, "Disorder profile of nebulin encodes a vernierlike position sensor for the sliding thin and thick filaments of the skeletal muscle sarcomere", PHYSICAL REVIEW E, 93, 062406. (SCIE) (IF: 2.529; SCI ranking: 35.3%,14.5%)


[4] L.-C. Tu, M.-C. Wu*, H.-L. Chu, Y.-P. Chiang, C.-L. Kuo, H.-Y. Li, C.-C. Chang*, 2016, "Surface electromyography analysis of blepharoptosis correction by transconjunctival incisions", JOURNAL OF ELECTROMYOGRAPHY AND KINESIOLOGY, 28, 23-30. (SCIE) (IF: 2.368; SCI ranking: 78.4%,63%,45.6%,55.7%)


[5] L.-C. Tu, M.-C. Wu, Y.-P. Chiang, H.-Y. Li, D.-B. Shieh, and C.-C. Chang, 2015, "What's New in the Treatment of Poor Levator Function with Severe Blepharoptosis", PLASTIC AND RECONSTRUCTIVE SURGERY, 136, 100. (SCIE) (IF: 4.763; SCI ranking: 13.2%)


[6] J. Busa Jr., J. Busa, S. Hayryan, C.-K. Hu*, M.-C. Wu, 2015, "CAVE-CL: An OpenCL version of the package for detection and quantitative analysis of internal cavities in a system of overlapping balls: application to proteins", COMPUTER PHYSICS COMMUNICATIONS, 190, 224-227. (SCIE) (IF: 4.39; SCI ranking: 31.3%,3.6%)


[7] X. Xiao, M.-C. Wu*, 2014, "Simplified lattice model for polypeptide fibrillar transitions", PHYSICAL REVIEW E, 90, 042701. (SCIE) (IF: 2.529; SCI ranking: 35.3%,14.5%)


[8] M.-C. Wu*, J. G. Forbes, K. Wang*, 2013, "Correlated vibrations in ion-pair dynamics in mechanoactivation identifies functional domains of force-dependent titin kinase", SOFT MATTER, 9, 9897-9906. (SCIE) (IF: 3.679; SCI ranking: 46.9%,43.8%,26.7%,28.6%)


[9] M.-C. Wu*, T. Y. Tsong, 2013, "Local Hydrophobicity in Protein Secondary Structure Formation", JOURNAL OF THE PHYSICAL SOCIETY OF JAPAN, 82, 114801. (SCIE) (IF: 1.828; SCI ranking: 58.1%)


[10] J. Busa Jr., S. Hayryan, M.-C. Wu, J. Busa, C.-K. Hu*, 2012, "ARVO-CL: The OpenCL version of the ARVO package – An efficient tool for computing the accessible surface area and the excluded volume of proteins via analytical equations", COMPUTER PHYSICS COMMUNICATIONS, 183, 2494-2497. (SCIE) (IF: 4.39; SCI ranking: 31.3%,3.6%)


[11] M.-C. Wu*, 2012, "Damped oscillations in the ratios of stock market indices", EPL, 97, 48009. (SCIE) (IF: 1.947; SCI ranking: 54.7%)


[12] M.-C. Wu*, M. S. Li, W.-J. Ma, M. Kouza, C.-K. Hu*, 2011, "Universal geometrical factor of protein conformations as a consequence of energy minimization", EPL, 96, 68005. (SCIE) (IF: 1.947; SCI ranking: 54.7%)


[13] C.-P. Hu*, Y. Chou, M.-C. Wu, T.-C. Yang, Y-H. Su, 2011, "Time-frequency analysis of superorbital modulation of X-ray binary SMC X-1 by Hilbert-Huang transform", ASTROPHYSICAL JOURNAL, 740, 67. (SCIE) (IF: 5.877; SCI ranking: 14.7%)


[14] J. Busa, S. Hayryan, C.-K. Hu*, J. Skrivanek, M.-C. Wu, 2010, "CAVE: A Package for Detection and Quantitative Analysis of Internal Cavities in a System of Overlapping Balls: Application to Proteins", COMPUTER PHYSICS COMMUNICATIONS, 181, 2116-2125. (SCIE) (IF: 4.39; SCI ranking: 31.3%,3.6%)


[15] H.-Y. Hu, M.-C. Wu*, H.-J. Fang, M. D. Forrest, C.-K. Hu, T.-Y. Tsong, H.-M. Chen*, 2010, "The role of tryptophan in staphylococcal nuclease stability", BIOPHYSICAL CHEMISTRY, 151, 170-177. (SCIE) (IF: 2.352; SCI ranking: 79.1%,68.1%,69.1%)


[16] Y.-H. Shiau*, M.-C. Wu, 2010, "Detecting characteristics of information masked by a laser-triggered microwave system via Hilbert–Huang transform", OPTICS COMMUNICATIONS, 283, 1909-1916. (SCIE) (IF: 2.31; SCI ranking: 51.5%)


[17] M.-C. Wu*, E. Watanabe, Z. R. Struzik, C.-K. Hu, Y. Yamamoto, 2009, "Phase statistics approach to human ventricular fibrillation", PHYSICAL REVIEW E, 80(5), 051917. (SCIE) (IF: 2.529; SCI ranking: 35.3%,14.5%)


[18] J. Busa, S. Hayryan, C.-K. Hu*, J. Skrivanek, M.-C. Wu, 2009, "Enveloping triangulation method for detecting internal cavities in proteins and algorithm for computing their surface areas and volumes", JOURNAL OF COMPUTATIONAL CHEMISTRY, 30, 346-357. (SCIE) (IF: 3.376; SCI ranking: 44.7%)


[19] H.-J. Fang, Y.-Z. Chen, M. S. Li, M.-C. Wu, C.-L. Chang, C.-k. Chang, Y.-l. Hsu, T.-h. Huang, H.-M. Chen, T.-Y. Tsong, C.-K. Hu*, 2009, "Thermostability of the N-terminal RNA-binding domain of the SARS-CoV nucleocapsid protein: Experiments and numerical simulations", BIOPHYSICAL JOURNAL, 96, 1892-1901. (SCIE) (IF: 4.033; SCI ranking: 26.4%)


[20] C.-k. Chang, Y.-l. Hsu, Y.-h. Chang, F.-a. Chao, M.-C. Wu, Y.-s. Huang, C.-K. Hu, T.-h. Huang*, 2009, "Multiple Nucleic Acid Binding Sites and Intrinsic Disorder of SARS Coronavirus Nucleocapsid Protein - Implication for Ribonucleocapsid Protein Packaging", JOURNAL OF VIROLOGY, 83, 2255-2264. (SCIE) (IF: 5.103; SCI ranking: 24.3%)


[21] T. C. Chinag, H.-C. Yu*, M.-C. Wu, 2009, "Statistical Properties, Dynamic Conditional Correlation and Scaling Analysis: Evidence from Dow Jones and NASDAQ High-Frequency Data", PHYSICA A, 388, 1555-1570. (SCIE) (IF: 3.263; SCI ranking: 32.6%)


[22] C.-Y. Chow, M.-C. Wu, H.-J. Fang, C.-K. Hu, H.-M. Chen*, T.-Y. Tsong*, 2008, "Compact dimension of denatured states of staphylococcal nuclease", PROTEINS-STRUCTURE FUNCTION AND BIOINFORMATICS, 72, 901-909. (SCIE) (IF: 3.756; SCI ranking: 52.5%,36.1%)


[23] T.-Y. Tsong*, C.-K. Hu, M.-C. Wu, 2008, "Hydrophobic condensation and modular assembly model of protein folding", BIOSYSTEMS, 93, 78-89. (SCIE) (IF: 1.973; SCI ranking: 57%,67.2%)


[24] M.-C. Wu*, 2007, "Phase correlation of foreign exchange time series", PHYSICA A-STATISTICAL MECHANICS AND ITS APPLICATIONS, 375, 633-642. (SCIE) (IF: 3.263; SCI ranking: 32.6%)


[25] M.-C. Wu*, 2007, "Phase statistics approach to time series analysis", JOURNAL OF THE KOREAN PHYSICAL SOCIETY, 50(1), 304-312. (SCIE) (IF: 0.649; SCI ranking: 93%)


[26] M.-C. Wu*, C.-L. Li, C.-K. Hu, Y.-C. Chang, Y.-H. Liaw, L.-W. Huang, C.-S. Chang, T.-T. Tsong, T. Hsu, 2006, "Curvature effect on the surface diffusion of silver adatoms on carbon nanotubes: Deposition experiments and numerical simulations", PHYSICAL REVIEW B, 74, 125424. (SCIE) (IF: 4.036; SCI ranking: 38.7%,25.6%,31.9%)


[27] M.-C. Wu, C.-K. Hu*, 2006, "Empirical mode decomposition and synchrogram approach to cardiorespiratory synchronization", PHYSICAL REVIEW E, 73, 051917. (SCIE) (IF: 2.529; SCI ranking: 35.3%,14.5%)


[28] M.-C. Wu*, 2006, "Exact finite-size scaling functions for the interfacial tensions of the Ising model on planar lattices", PHYSICAL REVIEW E, 73, 046135. (SCIE) (IF: 2.529; SCI ranking: 35.3%,14.5%)


[29] N. Sh. Izmailian, K. B. Oganesyan, M.-C. Wu, C.-K. Hu*, 2006, "Finite-size corrections and scaling for the triangular lattice dimer model with periodic boundary conditions", PHYSICAL REVIEW E, 73, 016118. (SCIE) (IF: 2.529; SCI ranking: 35.3%,14.5%)


[30] M.-C. Wu*, M.-C. Huang, H.-C. Yu, T. C. Chiang, 2006, "Phase distribution and phase correlation of financial time series", PHYSICAL REVIEW E, 73, 016128. (SCIE) (IF: 2.529; SCI ranking: 35.3%,14.5%)


[31] J. Busa, J. Dzurina, E. Hayryan, S. Hayryan, C.-K. Hu*, J. Plavka, I. Pokorny, J. Skrivanek, M.-C. Wu, 2005, "ARVO: A Fortran package for computing solvent accessible surface area and volume of overlapping spheres via analytic equations", COMPUTER PHYSICS COMMUNICATIONS, 165, 59-96. (SCIE) (IF: 4.39; SCI ranking: 31.3%,3.6%)


[32] A. E. Allahverdyan*, Zh. S. Gevorkian, C.-K. Hu, M.-C. Wu, 2004, "Unzipping of DNA with correlated base sequence", PHYSICAL REVIEW E, 69, 061908. (SCIE) (IF: 2.529; SCI ranking: 35.3%,14.5%)


[33] M.-C. Wu, C.-K. Hu*, N. Sh. Izmailian, 2003, "Universal finite-size scaling functions with exact nonuniversal metric factors", PHYSICAL REVIEW E, 67, 065103. (SCIE) (IF: 2.529; SCI ranking: 35.3%,14.5%)


[34] M.-C. Wu*, C.-K. Hu, 2002, "Exact partition functions of the Ising model on M×N planar lattices with periodic-aperiodic boundary conditions", JOURNAL OF PHYSICS A-MATHEMATICAL AND GENERAL, 35, 5189-5206.


[35] T.-M. Liaw, M.-C. Huang*, S.C. Lin, M.-C. Wu, 1999, "Scaling functions of interfacial tensions for a class of Ising cylinders", PHYSICAL REVIEW B, 60,12994-13005. (SCIE) (IF: 4.036; SCI ranking: 38.7%,25.6%,31.9%)


[36] M.-C. Wu, M.-C. Huang*, Y.-P. Luo, T.-M. Liaw, 1999, "Coupling-anisotropy and finite-size effects in interfacial tension of the two-dimensional Ising model", JOURNAL OF PHYSICS A-MATHEMATICAL AND GENERAL, 32, 4897-4906.


[37] M.-C. Huang*, M.-C. Wu, 1998, "The Caldirora-Kanai model and its equivalent theories for a damped oscillator", CHINESE JOURNAL OF PHYSICS, 36, 566-587. (SCIE) (IF: 3.237; SCI ranking: 33.7%)


Books Edited
[1] C.-K. Hu, k.-t Leung, M.-C. Wu, 2005, Statphys-Taiwan-2004: Biologically motivated statistical physics and related problems - Proceedings of the 7th Taiwan International Symposium on Statistical Physics, held at Institute of Physics, Academia Sinica, Taipei, 22-26 June, 2004 - Preface, 11 pages, USA: ELSEVIER: PHYSICA A-STATISTICAL MECHANICS AND ITS APPLICATIONS.


Chapters in Books
[1] M.-C. Wu*, C.-K. Hu, 2009, "Application of Empirical Mode Decomposition to Cardiorespiratory Synchronization", editor(s): S. K. Dana et al., Complex Dynamics in Physiological Systems: From Heart to Brain, pp. 167-181, USA: Springer.


[2] M.-C. Wu*, N. E. Huang, 2009, "Biomedical data processing using HHT: A review", editor(s): Amine NAIT-ALI, Advance Biosignal Processing, pp. 335-352, USA: Springer.


Others
[1] M.-C. Wu*,2008,〈Phase statistics approach to financial time series〉,《Physics Bimonthly》,30, 257-264。


[2] M.-C. Wu*, 2007, "Phase statistics approach to physiological and financial time series", AAPPS Bulletin, 17, 21-26.


[3] M.-C. Wu*, C.-K. Hu,2002,〈 Finite-size corrections and universal scaling functions for the critical Ising model〉,《Physics Bimonthly》,24, 284-289。


[4] J.-A. Chen, M.-C. Wu, C.-K. Hu*,2002,〈How to construct a parallel computer?〉,《Physics Bimonthly》,24, 284-289。


[5] M.-C. Wu*,2002,〈Solving the exact partition functions of the Ising model by the path integral approach〉,《Physics Bimonthly》,24, 277-283。