主持人
陳洋元 (Y.Y.Chen)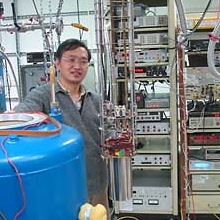 E-mail:cheny2@phys.sinica.edu.tw
星 座:雙子座
學 歷:東吳大學物理系、美國加州大學爾灣分校物理碩士、美國加州大學爾灣分校物理博士
現 職:中央研究院研究員
專 長:低溫物理、固態物理、比熱、熱電材料、熱傳導量測
經 歷:美國紐約羅轍斯特大學博士後研究、中央研究院物理研究所副研究員
著 作
(A) Refereed Paper
(B) Conference Paper
(A) Refereed Paper




2015

"Surface-Dominated Transport and Enhanced Thermoelectric Figure of Merit in Topological Insulator Bi1.5Sb0.5Te1.7Se1.3"
Te-Chih Hsiung ,Chung-Yu Mou, Ting-Kuo Lee, and Yang-Yuan Chen
Nanoscale 7 518-523 (2015)
"A comparative study of size-dependent magnetoresistance and hall resistance of Sb2Te3 nanoflakes"
Ping Chung Lee, Yi-Chi Huang, C.H. Chien, F.Y. Chiu, Y.Y. Chen, Sergey R. Harutyunyan
Physica B: Physics of Condensed Matter 459 12-15 (2015)
"Silver as a highly effective bonding layer for lead telluride thermoelectric modules assembled by rapid hot-pressing"
C. C. Li, F. Drymiotis , L. L. Liao, M. J. Dai, C. K. Liu, C. L. Chen, Y. Y. Chen, C. R. Kao, G. J. Snyder
Energy Conversion and Management 98 134-137 (2015)






2014

"Influence of In doping on the thermoelectric properties of AgSbTe2 compound with enhanced figure of merit"
Rajeshkumar Mohanraman, Raman Sankar, Karunakara Moorthy Boopathi, Fang-Cheng Chou, Chih-Wei Chu, Chih-Hao Lee, and Yang-Yuan Chen
Journal of Materials Chemistry A 2, 2839-2844 (2014)
"The in vivo photothermal treatment of gold nanorod in themouse ear model"
Bruce Yao Wen Liu, Cheng-Lung Chen, Shin-Yu Lee , Fu-Hsiung Chang, Win-Li Lin, Chih-Ta Chia, Yang-Yuan Chen
Biomaterials and Biomedical Engineering 1, 41-50 (2014)
"Thermoelectric properties of p-type polycrystalline SnSe doped with Ag"
Cheng-Lung Chen, Heng Wang, Yang-Yuan Chen, G. Jeffrey Snyder
Journal of Materials Chemistry A 2 11171-11176 (2014)
"Structural, electronic transport and magnetoresistance of a 142 nm lead telluride nanowire synthesized using stress-induced growth"
Dedi, Chia-Hua Chien, Te-Chih Hsiung, Yu-Chieh Chen, Yi-Cheng Huang, Ping-Chung Lee , Chih-Hao Lee, and Yang-Yuan Chen
AIP Advances 4 057111 (2014)
"Magnetotransport properties of Sb2Te3 nanoflake"
Yi-Chi Huang, P.C.Lee, C.H.Chien, F.Y.Chiu , Y.Y.Chen , Sergey R.Harutyunyan
Physica B: Physics of Condensed Matter 452, 108-112 (2014)
"Influence of Nanoscale Ag2Te Precipitates on the Thermoelectric Properties of the Sn Doped P-Type AgSbTe2 Compound""
Rajeshkumar Mohanraman, Raman Sankar, Fang Cheng Chou, Chih Hao Lee, Yoshiyuki Iizuka, I Panneer Muthuselvam, and Yang Yuan Chen
APL Materials., 2, 096114 (2014); doi: 10.1063/1.4896435






2013

"Photothermal cancer therapy via femtosecond-laser-excited FePt nanoparticles"
Cheng-Lung Chen, Ling-Ru Kuo, Shin-Yu Lee, Yeu-Kuang Hwu, Shang-Wei Choua, Chia-Chun Chen, Fu-Hsiung Chang, Kung-Hsuan Lin, Dzung-Han Tsai, Yang-Yuan Chen
Biomaterials 34, 1128-1134 (2013)
"Low Temperature Heat Capacity of Layered Superconductors SrNi2Ge2 and SrPd2Ge2"
T. L. Hung, I. A. Chen, C. H. Huang, C. Y. Lin, C. W. Chen, Y. B. You, S. T. Jian, M. C. Yang, Y. Y. Hsu, J. C. Ho, Y. Y. Chen, H. C. Ku
Journal of Low Temperature Physics 171, 148-155 (2013)
"Pressure effects on Tc in superconducting (Tl, Cs)1-xFe2-ySe2"
S. C. Chen, K. J. Syu, H. H. Sung, W. H. Lee, C. C. Li, and Y. Y. Chen
Journal of Applied Physics 113, 153903 (2013)
"Effect of Grain Boundary on Thermal Conductivity of CuFeSe2 Thin Films"
P. C. Lee, M. N. Ou, Z. W. Zhong, J. Y. Luo, M. K. Wu, K. Chen, Y. Y. Chen
Chinese Journal of Physics 51, 166-173 (2013)
"Thermoelectric Properties of an Individual Bi1.75Sb0.25Te2.02 Nanowire"
Ping-Chung Lee, Hong-Chi Chen, Chuan-Ming Tseng, Wei-Chiao Lai, Chih-Hao Lee, Chia-Seng Chang, Yang-Yuan Chen
Chinese Journal of Physics, Vol.51 No.4 (2013)
"Investigation of normal and superconducting states in noncentrosymmetric Re24Ti5"
C. S. Lue, H. F. Liu, C. N. Kuo1, P. S. Shih, J.-Y. Lin, Y. K. Kuo, M. W. Chu, T.-L. Hung and Y Y Chen
Superconductor Science and Technology 26, 055011 (2013)
"Use of liquid nitrogen to treat solenopsis invicta nests"
Hui-Min Lin, Yu-Chin Tseng, Chih-Ting Chen, Chung-Chi Lin, Yuan-Tseh Lee and Yang-Yuan Chen
Florida Entomologist 96(3), 871-876, (2013)
"Stress-induced growth of single-crystalline lead telluride nanowires and their thermoelectric transport properties"
Dedi, Ping-Chung Lee,Chia-Hua Chien, Guang-Ping Dong, Wei-Chia Huan, Cheng-Lung Chen, Chuan-Ming Tseng, Sergey R. Harutyunyan, Chih-Hao Lee, and Yang-Yuan Chen
Appl. Phys. Lett. 103, 023115 (2013)
"Hole doping effect on superconductivity in Ce(Co1-xRux)In5"
M. N. Ou, K. Gofryk, R. E. Baumbach, S. S. Stoyko, J. D. Thompson, J. M. Lawrence, E. D. Bauer, F. Ronning,A. Mar, and Y. Y. Chen
Phys. Rev. B 88, 195134 (2013)
"Nonlinear Thickness and Grain Size Effects on the Thermal Conductivity of CuFeSe2 Thin Films"
P. C. Lee, M. N. Ou, Z. W. Zhong, J. Y. Luo, M. K. Wu, K. C. Chen, Y. Y. Chen
Chinese Journal of Physics, Vol.51 No.1 (2013)
"Enhanced thermoelectric performance in Bi-doped p-type AgSbTe2 compounds"
Rajeshkumar Mohanraman, Raman Sankar, F.C Chou, C. H. Lee and Y.Y. Chen
Journal of Applied Physics 114, 163712 (2013)
"Enhanced surface mobility and quantum oscillations in topological insulator Bi1.5Sb0.5Te1.7Se1.3 nanoflakes"
Te-Chih Hsiung, Ding-Yuan Chen, Li Zhao, Yi-Hsin Lin, Chung-Yu Mou, Ting-Kuo Lee, Maw-Kuen Wu, and Yang-Yuan Chen
Appl. Phys. Lett. 103, 163111 (2013)
"Solution-processable bismuth iodide nanosheets as hole transport layers for organic solar cells"
Karunakara Moorthy Boopathi, Sankar Raman, Rajeshkumar Mohanraman, Fang-Cheng Chou, Yang-Yuang Chen, Chih-Hao Lee, Feng-Chih Chang, Chih-Wei Chu
Solar Energy Materials and Solar Cells, Volume 121, 35–41 (2014)
"Influence of In doping on the thermoelectric properties of AgSbTe2 compound with enhanced figure of merit"
Rajeshkumar Mohanraman, Raman Sankar, Karunakara Moorthy Boopathy, Fang Cheng Chou, Chih Wei Chu, Chih Hao Lee and Yang Yuan Chen
J. Mater. Chem. A, 2013, Advanced article, DOI: 10.1039/c3ta14547f
"Photothermal therapy of mammary carcinoma (EMT-6) in mice using excited gold nanorod surface plasmons"
Bruce Yao Wen Liu, Cheng-Lung Chen, Shin-Yu Lee, Fu-Hsiung Chang, Win-Li Lin, Cher-Chia Yeh, Chih-Ta Chia, Yang-Yuan Chen
Submitted to Nanomedicine (2013)






2012

"Multiferroicity in geometrically frustrated α-MCr2O4 systems (M=Ca, Sr, Ba)"
Li. Zhao, Tian-Wey Lan, Kuen-Jen Wang, Chia-Hua Chien, Tsu-Lien Hung, Jiu-Yong Luo, Wei-Hsiang Chao, Chung-Chieh Chang, Yang-Yuan Chen, and Maw-Kuen Wu*
Phys. Rev. B 86, 064408-1 (2012)
"Electrospun Polyvinylpyrrolidone-Based Nanocomposite Fibers Containing (Ni0.6Zn0.4)Fe2O4"
W. S. Khan, R. Asmatulu, Y. H. Lin, Y. Y. Chen, and J. C. Ho
Journal of Nanotechnology, vol. 2012, 138438 (2012)
"Superconductivity and structural variation of the electron-correlated layer systems Sr(Pd1-xTx)2Ge2 (T = Co, Ni, Rh; 0 < x < 1)"
J. W. Wang, I. A. Chen, T. L. Hung, Y. B. You, and H. C. Ku, Y. Y. Hsu, J. C. Ho, Y. Y. Chen
Phys. Rev. B 85, 024538 (2012)
"CuBr2-A New Multiferroic Material with High Critical Temperature"
Li. Zhao, Tsu-Lien Hung, Ching-Chien Li, Yang-Yuan Chen and Maw-Kuen Wu, Reinhard K. Kremer, Michael G. Banks, Arndt Simon, Myung-Hwan Whangbo, Changhoon Lee, Jun Sung Kim, Ingyu Kim, Kee Hoon Kim
Advanced Materials 24, 2469-2473 (2012)
"Co Thickness Effect on the Dielectric Permittivity of SiO/Co/SiO Films"
Y. Ding , Y. D. Yao , K. T. Wu , J. C. Hsu , D. S. Hung , D. H. Wei, S. F. Lee, and Y. Y. Chen
IEEE Transactions on Magnetics 48, 3936, 2012
"Surfactant-Directed Synthesis of Ternary Nanostructures: Nanocubes, Polyhedrons, Octahedrons, and Nanowires of PtNiFe Their Shape-Dependent Oxygen Reduction Activity"
Shang-Wei Chou, Jing-Jong Shyue, Chia-Hua Chien, Chia-Chun Chen,Yang-Yuan Chen, and Pi-Tai Chou
Chemistry of Materials 24 2527-2533 (2012)
"Thermoelectric Figure of Merit Enhancement in Bi2Te3-Coated Bi Composites"
T. W. Lan, Y. C. Chen, J. C. Ho, S. G. Shyu, Y. Y. Chen
Journal of Electronic Materials 41, 2326-2330 (2012)
"Cross-plane Seebeck coefficient and thermal conductivity of CuFeSe2 thin Film"
P. C. Lee, M. N. Ou, J. Y. Luo, M. K. Wu, and Y. Y. Chen
AIP Conf. Proc. 1449, 405 (2012)






2011

"Magnetic characterizations of sol-gel produced Mn-doped ZnO"
Ramazan Asmatulu, Holly Haynes, Manish Shinde, Y. H. Lin, Y. Y. Chen and James C. Ho
Journal of Nanomaterials, 2010, 715282 (2011)
"Size effects on mixed valence of CePd3"
Y. H. Lin, C. R. Wang, C. L. Dong, M. N. Ou, Y. Y. Chen
J. Phys.: Conf. Ser. 273, 012041 (2011)
"Fire ant detecting canines : a complementary method in detecting red imported fire ant (Solenopsis invicta)"
H. M. Lin, W. L. Chi, Y. C. Tseng, W. T. Chen, Y. L. Kung, C. C. Lin, Y. Y. Lien and Y. Y. Chen
Journal of Economic Entomology, 104, 225-231 (2011)
"Calorimetric studies of C14 and C15 YMn2 and YMn2(H,D)6"
R. S. Liu, I. Baginskiy, H. T. Kuo , S. M. Filipek, R. Wierzbicki, R. Sato, A. V. Tsvyashchenko, L. Fomicheva, H. H. Wu, C. B. Tsai, C. C. Yang, R. Asmatulu, J. Ho and Y. Y. Chen
International Journal of Hydrogen Energy, 36, 2285-2290 (2011)
"Cytotoxicity of release products from magnetic nanocomposites in targeted drug delivery"
H. L. Wamocha, H. E. Misak, Z. Song, H. Y. Chu, Y. Y. Chen, R. Asmatulu, S.-Y.Yang and J. C. Ho
J. Biomater Appl published online 9 November 2011
"Role of 3d electrons in the rapid suppression of superconductivity in the dilute V doped spinel superconductor LiTi2O4"
C. L. Chen, C. L. Dong, K. Asokan, J. L. Chen, Y. S. Liu, J.-H. Guo, W. L.Yang, Y. Y. Chen, F. C. Hsu, C. L. Chang and M. K. Wu
Supercond. Sci. Technol. 24, 115007 (2011)
"Quantum Size Effects on Vanadium Nanoparticles"
C. C. Yang, W. L. Huang, C. Y. Weng, Z. Y. Mo, Yang-Yuan Chen
IEEE Transactions on Magnetics 47, 3535-35 (2011)
"Microstructure and ordering parameter studies in multilayer [FePtx/Os]n films"
D. P. Chiang, S. Y. Chen, Y. D. Yao, H. Quyang, C. C. Yu, Y. Y. Chen, H. M. Lin
J. of Applied Physics 109, 07A732 (2011)
"Magnetic and Superconducting Properties of Doped and Undoped Double Perovskite Sr2YRuO6"
S. M. Rao, J. K. Srivastava, M. K. Wu, Y. Y. Chen et al.
J. of Superconductivity and Novel Magnetism 24, 1249-1262 (2011)
"Magnetic correlations in HoxTb2-xTi2O7"
L. J. Chang, W. Schweika, Y.-J. Kao, Y. Z. Chou, J. Person, Th. Br‥uckel, H. C. Yang, Y. Y. Chen, and J. S. Gardner
Phys. Rev. B 83, 144413 (2011)
"Microstructure and Magnetic Properties of Multilayer [FePt/Os]n Films"
D. P. Chiang, S. Y. Chen, Y. D. Yao*, C. C. Yu, Y. Y. Chen, and H. M. Lin
Nanoscience and Nanotechnology Letters 3, 285-288 (2011)






2010

"Magnetic Properties of Multilayer [(FePt)x/Os]n Films"
Shih-Yuan Chen, Yeong-Der Yao, Chin-Chung Yu, D. P. Chiang, Y. Y. Chen, and Jenn-Ming Wu
IEEE Transactions on Magnetics 46, 2078-2081 (2010)
"Magnetic order in the double pyrochlore Tb2Ru2O7"
L. J. Chang, M. Prager, J. Persson, J. Walter, E. Jansen, Y. Y. Chen, J. S. Gardner
J. of Physics-Condensed Matter 22, 076003 (2010)
"Size-dependent magnetic parameters of fcc FePt nanoparticles: applications to magnetic hyperthermia"
M. S. Seehra, V. Singh, P. Dutta, S. Neeleshwar, Y. Y. Chen, C. L. Chen, S. W. Chou and C. C. Chen
J. Phys. D: Appl. Phys. 43, 145002 (2010)
"Magnetism in nanoparticles of semiconducting FeSi2"
H. H. Hamdeh, M. M. Eltabey, J. C. Ho, P. C. Lee, K. Chen, Y. Y. Chen
Journal of Magnetism and Magnetic Materials 322, 2227–2230 (2010)
"In situ real-time investigation of cancer cell photothermolysis mediated by excited gold nanorod surface plasmons "
Cheng-Lung Chen, Ling-Ru Guo, Yang-Yuan Chen, Yeh-Kuang Hwu, Ching-Lin Chang, Shin-Yu Lee, Kowa Chen, Su-Jien Lin and Jing-Duan Huang
Biomaterials 31, 4104-4112 (2010)
"Fabrication and Characterization of Electrodeposited Bismuth Telluride Films and Nanowires "
Cheng-Lung Chen, Yang-Yuan Chen, Su-Jien Lin, James C. Ho, Ping-Chung Lee, Chii-Dong Chen, and Sergey R. Harutyunyan
J. Phys. Chem. C 114, 3385-3389 (2010)
"Possible origins of the low-temperature anomaly in CeRu2"
C. L. Huang, C. H. Chen, S. Mukherjee, Y. Y. Chen et al.
Physica C-Superconductivity and its application 470, S712-S713 Supplement: 1 (2010)






2009

"Neutron polarization analysis on the multiferroic TbMn2O5"
L. J. Chang, Y. Su, W. Schweika, Th. Bruckel, Y. Y. Chen, D. S. Jang, R. S. Liu
Physica B, 404, 2517-2519 (2009)
"Thickness-Dependent Electronic Structure of Intermetallic CeCo2 Nanothin Films Studied by X-ray Absorption Spectroscopy "
Chung-Li Dong, Chi-Liang Chen, Kandasami Asokan, Ching-Lin Chang, Yang-Yuan Chen, Jyh-Fu Lee, and Jinghua Guo
Langmuir 25, 7568–7572 (2009)
"Controlled Growth and Magnetic Property of FePt Nanostructure Cuboctahedron, Octapod, Truncated Cube, and Cube"
Shang-Wei Chou, Chun-Ling Zhu, Sonnathi Neeleshwar, Cheng-Lung Chen, Yang-Yuan Chen, and Chia-Chun Chen
Chemistry of Materials 21, 4955-4961 (2009)
"Drug-Carrying Magnetic Nanocomposite Particles for Potential Drug Delivery Systems "
R. Asmatulu, A. Fakhari, H. L. Wamocha, H. Y. Chu, Y. Y. Chen, M. M. Eltabey, H. H. Hamdeh, and J. C. Ho
Journal of Nanotechnology (2009)
"Anisotropic magnetism and magnetoresistance in iron nanowire arrays "
M. N. Ou, T. J. Yang, and Y. Y. Chen
Chinese Journal of Physics 47, 847-852 (2009)
"Enhanced magnetoresistance and Griffiths phase induced by Mo substitution in La0.7Ca0.15Sr0.15Mn1-xMoxO3 (0< x < 0.05) "
G. Narsinga Rao and J. W. Chen, S. Neeleshwar, Y. Y. Chen, and M. K. Wu
J. Phys. D: Applied Physics 42, 095003 (2009)
"A new Kondo antiferromagnet Ce(Ni0.25In1.75)"
H. H. Sung, H. H. Wu, K. J. Syu1, W. H. Lee and Y. Y. Chen
J. Phys.: Condensed Matter, 21, 176004 (2009)
"Low-Magnetoresistance RuO2-Al2O3 Thin Film Thermometer and its Application"
Y. Y. Chen, P.C. Chen, C. B. Tsai, K. I. Suga and K. Kindo
International Journal of Thermophys 30, 316-324 (2009)
"Physical Properties of the Weak-Ferromagnetic Superconductor RuSr2EuCu2O8"
B. C. Chang, C. Y. Yang, H. C. Ku, J. C. Ho, C. B. Tsai, Y. Y. Chen, D. C. Ling
Chinese J of Physics 47, 529-539 (2009)
"Dielectric constant at x-band microwave frequencies for multiferroic BiFeO3 thin films"
AFaris B. Abdul Ahad, D. S. Hung, Y. D. Yao, S. F. Lee, C. S. Tu, T. H. Wang, Y. Y. Chen, and Y. P. Fu
J. of Applied Physics, 105, 07D912 (2009)






2008

"Electrical and thermal transport in single nickel nanowire"
M. N. Ou, T. J. Yang, S. R. Harutyunyan, Y. Y. Chen, C. D. Chen, and S. J. Lai
Appl. Phys. Lett. 92, 063101 (2008)
"Size-Controlled Ex-nihilo Ferromagnetism in Capped CdSe Quantum Dots"
By Mohindar S. Seehra, Prasanta Dutta, Sonnathi Neeleshwar, Yang-Yuan Chen, Cheng Lung Chen, Shang Wei Chou, Chia Chun Chen, Chung-Li Dong, and Ching-Lin Chang
Adv. Mater. 20, 1656–1660 (2008)
"Effect of surface treatments on the electronic properties of ultra-nanocrystalline diamond films"
C .L. Dong, S. S. Chen, J. W. Chiou, Y. Y. Chen, J.-H. Guo, H. F. Cheng, I. N. Lin, C. L. Chang
Diamond & Related Materials 17, 1150-1153 (2008)
"Electronic structure of CeCo2 thin films studied by X-ray absorption spectroscopy"
C. L. Dong, K. Asokan, Y. Y. Chen, C. L. Chen, J. L. Chen, Y. S. Liu, J. F. Lee, J.-H. Guo, C. L. Chang
Physica B 403, 854–855 (2008)
"Probing Quantum Confinement of Single-Walled Carbon Nanotubes by Resonant Soft-X-Ray Emission Spectroscopy"
Jun Zhong, Jauwern Chiou, Chunli Dong, Li Song, Chang Liu, Sishen Xie, Huiming Cheng, Way-Faung Pong, Chinglin Chang, Yangyuan Chen, Ziyu Wu, Jinghua Guo
Appl. Phys. Lett. 93, 023107 (2008)
"Effects of oxygen deficiency on the magnetic ordering of Mn in Tb0.9Na0.1MnO2.9"
C. C. Yang, C.-M. Wu, W.-H. Li, T. S. Chan, R. S. Liu, Y. Y. Chen, M. Avdeev
J. of Physics-Condensed Matter 20, 104234 (2008)






2007

"Chemical disorder-induced magnetism in FeSi2 nanoparticles"
Y. Y. Chen, P. C. Lee, C. B. Tsai, and S. Neeleshwar , C. R. Wang, J. C. Ho and H. H. Hamdeh
Appl. Phys. Lett. 91, 251907 (2007)
"Size-dependent lattice structure of palladium studied by x-ray absorption spectroscopy"
Chih-Ming Lin, Tsu-Lien Hung, Yen-Heng Huang, Kung-Te Wu, Mau-Tsu Tang, Chih-Hao Lee, C. T. Chen, and Y. Y. Chen
Phys. Rev. B 75, 125426 (2007)
"Kondo Interactions and Magnetic Correlations in CePt2 Nanocrystals"
Y. Y. Chen, P. H. Huang, M. N. Ou, C. R. Wang, Y. D. Yao, T. K. Lee, M. Y. Ho, J. M. Lawrence, and C. H. Booth
Phys. Rev. lett. 98, 157206 (2007)
"Superconducting transition parameters in aluminum–lithium alloys (0–10 at.% Li) "
M. N. Ou, T. J. Yang, B. J. Chen, Y. Y. Chen, J. C. Ho
Solid State Communications 142, 421–424 (2007)
"HoTbTi2O7, the mixtures of spin ice and spin liquid"
L. J. Chang, H. Terashita, W. Schweika, Y. Y. Chen, J. S. Gardner
J. Mag. Mag. Mat. 310 1293–1294 (2007)
"Magnetic and electronic properties of CeCo2 studied by synchrotron radiation"
C. L. Dong, Y. Y. Chen, C. L. Chang, K. Asokan, C. L. Chen, Y. S. Liu, J. L. Chen, J. F. Lee, and J.-H. Guo
Physica Status Solidi (b) 244, 4526-4529 (2007)
"Thermal and transport properties of a single nickel nanowires"
M. N. Ou, S. R. Harutyunyan, S. J. Lai, C. D. Chen, T. J. Yang and Y. Y. Chen
Physica Status Solidi (b) 244, 12, 4512-4517 (2007)
"The interplay between weak ferromagnetism and superconductivity in RuSr2EuCu2O8"
D. C. Ling, C. H. Chen, Y. Y. Chen et al.
Physica C-Superconductivity and its applications 460, 518-519 (2007)






2006

"Lattice Disorder and Size-Induced Kondo Behavior in CeAl2 and CePt2+x"
S.-W. Han, C. H. Booth, E. D. Bauer, P. H. Huang, Y. Y. Chen, and J. M. Lawrence
Phys. Rev. Lett. 97, 097204 (2006)
"Magnetic and superconducting properties of single crystals of Sr2HoRu1-xCuxO6 grown from high temperature solutions"
S. M. Rao, K. J. Wang, N. J. Yen, Y. Y. Chen, C. B. Tsai, and S. Neeleshwar, M. K. Wu, J. K. Srivastava, M. C. Ling and H. L. Liu, D. C. Ling
Appl. PhyS. Lett. 89, 232509 (2006)
"Magnetic instability and oxygen deficiency in Na-doped TbMnO3"
C. C. Yang, M. K. Chung, W.–H. Li*, T. S. Chan, R. S. Liu, Y. H. Lien, C. Y. Huang, Y. Y. Chen, Y. D. Yao, and J. W. Lynn
Phys. Rev. B 74, 094409 (2006)
"Low-temperature specific heat of double wall carbon nanotubes"
B. Xiang, C. B. Tsai, C. J. Lee, D. P. Yu, Y. Y. Chen
Solid State Commun 138, 516-520 (2006)
"Variation of electronic structures of CeAl2 thin films with thickness studied by X-ray absorption near-edge structure spectroscopy"
C. L. Dong, K. Asokan, C. L. Chang, C. L. Chen, P. C. Lee, P. C. Chen, Y. Y. Chen, J. F. Lee and J.-H. Guo
Journal of Electron Spectroscopy and Related Phenomena 152, 1-5 (2006)
"Electronic and magnetic properties of CeAl2 nanoparticles"
C. L. Dong, Y. Y. Chen, C. L. Chen, J.-H. Guo and C. L. Chang
J. of Magnetism and Magnetic Materials 304, E 22-E 24 (2006)
"Disorder effects on Kondo behavior in CePt2+x"
Y. Y. Chen, P. H. Huang, C. H. Booth, and J. M. Lawrence
Physica B 378-80, 778-779 (2006)
"Electronic structure of CeAl2 thin films studied by x-ray absorption spectroscopy"
C. L. Dong, C. L. Chen, Y. Y. Chen, A. Asokan, J. F. Lee, J.-H. Guo, C. L. Chang
Applied Surface Science 252, 5372-5375 (2006)
"Transport and magnetic properties of metallic La1-xPbxNiO3-delta (0.0 <= x <= 0.1)"
S. Pal, B. K. Chaudhuri, S. Neeleshwar, Y. Y. Chen, H. D. Yang
J. of Applied Physics 97, 043707 (2006)






2005

"Superconductivity ic CeCo2 nanoparticles"
Y. Y. Chen, S. J. Jang, C. R. Wang, and H. D. Yang
Physica B 359-361C, 497-499 (2005)
"Size dependence properties of CdSe quantum dots"
S. Neeleshwar, C. L. Chen, C. B. Tsai and Y. Y. Chen, C. C. Chen, S. G. Shyu, M. S. Seehra
Phys. Rev. B 71, 201307(R) (2005)
"On metallic characterstics in some conducting polymers"
P. K. Kahol, J. C. Ho, Y. Y. Chen, C. R. Wang, S. Neeleshwar. C. B. Tsai, B. Wessling
Synthetic Metals 151, 65-72 (2005)
"Effect of Ni doping in rare-earth manganite La0.7Pb0.3Mn1-xNixO3 (x=0-0.5)"
Sudipta Pal, Esa Bose, B. K. Chaudhuri, H. D. Yang, S. Neeleshwar, Y. Y. Chen
J. Mag. Mag. Mat. 293, 872-879 (2005)
"Electronic structure and valence state of CeAl2 from X-ray absorption and emission spectroscopy"
C. L. Dong, A. Augustsson, C. L. Chen, C. L. Chang, Y. Y. Chen and J.-H. Guo
Journal of Electron Spectroscopy and Related Phenomena, 144-147, 581-584 (2005)
"Critical exponents of La0.7Sr0.3MnO3, La0.7Ca0.3MnO3 and Pr0.7Ca0.3MnO3 systems showing correlation between transport and magnetic properties"
Subhrangsu Taran, B. K. Chavdhuri, Sandip Chatterjee, H. D. Yang, S. Neeleshwar, Y. Y. Chen
J. of Applied Physics 98, 103903 (2005)
"Heat capacity, electron paramagnetic resonance, and dc conductivity investigations of dispersed polyaniline and poly(ethylene dioxythiophene)"
P. K. Kahol, J. C. Ho, Y. Y. Chen, C. R. Wang, S. Neeleshwar, C. B. Tsai and B. Wessling
Synthetic Metals 153, 169-172 (2005)
"Superconductivity and magnetism of the R6Ni2Sn (R=Y and rare earth) compounds"
J. W. Chen, N. S. Jou, B. K. Wang, Ching-Ray Chang, R. C. Yang and Y. Y. Chen
Physica B: Condensed Matter 359, 211-213 (2005)






2004

"Antiferromagnetic spin wave in Ce2CuGe6"
T. W. Tseng, W. H. Lee and Y. Y. Chen
Japanese Journal of Applied Physics 43, L66-L69 (2004)
"Magnetic and Calorimetric Studies of an Antiferromagnetic Transition in Erbium Sesquisulfide (Er2S3)"
C. R. Wang, Y. Y. Chen, Y. D. Yao, Y. S. Lin, M. N. Ou, S. M. A. Taher, H. H. Hamdeh, X. Zhang, J. C. Ho and John B. Gruber
J. Mag. Mag. Mat. 269, 419-422 (2004)
"Development of pulsed magnetic field and study of magnetotransport properties of K-doped La1-xCax-yKyMnO3"
S. Bhattacharya, S. Pal, R. K. Mukherjee, B. K. Chaudhuri*, S. Neeleshwar, Y. Y. Chen, S. Mollah, H. D. Yang
Mag. Mag. Mat. 269, 359-371 (2004)
"Magnetic and superconducting behaviors of doped and undoped double perovskite Ba2PrRuO6"
S. M. Rao, M. K. Wu, J. K. Srivastave, B. H. Mok, C. Y. Lu, Y. C. Liao, Y. Y. Hsu, Y. S. Hsieu, Y. Y. Chen, S. Neeleshwar, S. Tsai, J. C. Ho and H.-L. Liu
Physics Letters A 324, 71-81 (2004)
"Ab initio studies of the electronic structures and magnetic [properties of bulk and nano-particle CeCo2"
G. Y. Cuo, Y. K. Wang, Y. Y. Chen
J. Mag. Mag. Mat 272-276 e1193-1194 (2004)
"Disorder-induced Kondo behavior in nanostructured CeAl2"
S. W. Han, C. H. Booth, E. D. Bauer, P. H. Huang, Y. Y. Chen, J. M. Lawrence
J. Mag. Mag. Mat 272-276, e101-102 (2004)
"Antiferromagnetism and Kondo behavior in Ce(Pt1-xPdx)Ga"
H. H. Cho, W. H. Lee and Y. Y. Chen
Solid State Comm. 130, 821-825 (2004)
"The electronic structure of Ba1-xCaxTiO3 probed by X-ray absorption spectroscopy"
K. Asokan, J. C. Jan, J. W. Chiou et al.
J. of Solid State Chemistry, 17, 2639-2643 (2004)
"Superconductivity in aluminum nanoparticles"
S. Neeleshwar, Y. Y. Chen, C. R. Wang, M. N. Ou and P. H. Huang
Physica C. 408-410, 209 (2004)
"A novel route to phase formation of superconductive cobalt oxyhydrates using KMnO4 as an oxidizing agent"
C.-J. Liu, C.-Y. Liao, L.-C. Huang, C.-H. Su, S. Neeleshwar, Y. Y. Chen and C.–J. C. Liu
Physica C, 416, 43-46 (2004)
"Anomalous temperature and disorder dependences of electron-phonon scattering rate in impure V1-xAlx alloys"
A. K. Meikap, Y. Y. Chen, and J. J. Lin
Phys. Rev. B 69, 212202 (2004)
"Antiferromagnetic spin wave in Ce2PdGe6"
Y. T. Fan, W. H. Lee and Y. Y. Chen
Phys. Rev. B 69, 132401 (2004)





2003

"Size Effect on Magnetic Ordering in Ce3Al11"
C. R. Wang, Y. Y. Chen, S. Neeleshwar, M. N. Ou and J. C. Ho
Physica B. 329-333,620-621 (2003)
"Crystallographic, Magnetic and Calorimetric Studies of Ho5SiGe2"
N. P. Thuy, Y. Y. Chen, Y. D. Yao, C. R. Wang, S. H. Lin, J. C. Ho, T. P. Nguyen, P. D. Thang, J. C. P. Klaasse, N. T. Hien, L. T. Tai
J. Mag. Mag. Mat. 262, 432-436 (2003)
"Low-temperature calorimetric evaluation of aluminum-lithium alloys"
C. R. Wang, S. Neeleshwar, Y. Y. Chen and J. C. Ho
J. Appl. Phys. 94, 7938 (2003)






2002

"Magnetic Ordering and Spin Reorientation in ErGa3"
Y. Y. Chen, Y. D. Yao, C. R. Wang, S. H. Lin, A. Czopnik and J. C. Ho
Phys. Rev. B, 66, 212404 (2002)
"Effect of the annealing temperature on the electronic and atomic structures of exchange-biased NiFe-FeMn bilayers"
J. M. Lee, J. C. Jan, J. W. Chiou, W. F. Pong, M.–H. Tsai, Y. K. Chang, Y. Y. Chen, C.R. Wang, J. F. Lee, T. Yang, Z. Lu, W. Y. Lai and Z. H. Mai
Sur. Rev. and Lett. 9, 293-298 (2002)
"Magnetic and thermal studies of nano-size Co and Fe Particles"
Y. D.Yao, Y. Y. Chen, S. F. Lee, W. C. Chang, H. L. Hu
Journal of Magnetism and Magnetic Materials 239, 249 (2002)
"Magnetic Properties in CeCo2 Nanoparticles"
C. R. Wang, Y. Y. Chen, Y. D.Yao, C. L. Chang, Y. S. Weng and C. Y. Wang
Journal of Magnetism and Magnetic Materials 239, 524-526 (2002)
"Angle-dependent x-ray Absorption Spectroscopy Study of Zn-doped GaN"
J. W. Chiou, S. Mookerjee, K. V. R. Rao, J. C. Jan, H. M. Tsai, K. Asokan, W. F. Pong, F. Z. Chien, M.-H. Tsai, Y. K. Chang, ,Y. Y. Chen, J. F. Lee, C. C. Lee, G. C. Chi
Applied Physics Lett. 81, 3389 (2002)
"Electronic structure of the carbon nanotube tips studied by x-ray-absorption spectroscopy and scanning photoelectron microscopy"
J. W. Chiou, C. L. Yueh, J. C. Jan, Y. Y. Chen et al.
Applied Physics Letter, 81, 41898-4191 (2002)






2001

"Electronic structure of the Fe-layer-catalyzed carbon nanotubes studied by X-ray-absorption spectroscopy"
C. L. Yueh, J. C. Jan, J. W. Chiou, W. F. Pong, Y. K. Chang, Y. Y. Chen, Y. F. Lee, P. K. Tseng, S. L. Wei, C. Y. Wen, L. C. Chen and K. H. Chen
Applied Physics Letter 79, 3179-3191 (2001)
"Spin-Glass Freezing above the Ordering Temperature for the Kondo Antiferromagnet CeNi2Sn2"
Li-Ru Sung, Y. D. Yao, W. H. Lee and Y. Y. Chen
Jpn. J. Appl. Phys. 40, L154-157 (2001)
NSC89-2112-M-194-026
"The Effect of Annealing Time on the Electronic Structure of the Fe-Cu-Nb-Si-B Alloys"
Y. K. Chang, Y. H. Cheng, W. F. Pong, M. H. Tsai, Y. Y. Chen, J. W. Chiou, J. C. Jan, K. Asokan, F. Z. Chien, , P. K. Tseng, T. E. Dann, M. S. Leu, T. S. Chin
J. Electron Spectroscopy 114-116, 831-835 (2001)
"X-ray absorption studies of carbon-related materials"
W. F. Pong, C. L. Yueh, Y. D. Chang, Y. Y. Chen et al.
J. of Synchrotron Radiation 8, 145-149 (2001)
"Electronic structures of Ba1-xCaxTiO3 studied by x-ray absorption spectroscopy and theoretical calculation"
K. Asokan, J. C. Jan, J. W. Chiou, Y. Y. Chen et al.
J. of Physics-Condensed Matter 13, 11087-11095 (2001)






2000

"Size-Induced Transition From magnetic Ordering to Kondo Behavior in (Ce, Al) Compounds"
Y. Y. Chen, Y. D. Yao, C. R. Wang, W. H. Li, C. L. Chang, T. K. Lee, T. M. Hong, J. C. Ho and S. F. Pan
Phys. Rev. Lett. 84, 4990 (2000)
(Also selected for publication in Virtual Journal of Nanoscale Science & Technology)
NSC88-2112-M-001-026
"Calorimetric Evaluation of Magnetic Ordering and Spin Reorientation in Er3Ge4"
Y. Y. Chen, Y. D. Yao, Y. S. Lin, C. L. Chang, H. H. Hamdeh, and J.C. Ho
Phys. Rev. B 61, 58 (2000)
NSC88-2112-M-001-026
"Valance State of CeAl2 Nanoparticles Studied by Ce L3-edge x-ray Absorption Spectroscopy"
C. L. Chang, C. L. Dong, C. L. Huang, Y. Y. Chen
J. of Applied Physics 87, 3349 (2000)
(Also selected for publication in Virtual Journal of Nanoscale Science & Technology)
NSC88-2112-M-032-012
"Electronic Properties of the Diamond Film with Nitrogen Impurities: An X-ray Absorption and Photoemission Spectroscopy Study"
Y. D. Chang, A. P. Chiu, W. F. Pong, M. H. Tsai, Y. K. Chang, Y. Y. Chen, J. W. Chiou, C. J. Jan, P. K. Tseng, R. T. Wu, S. C. Chung, K. L. Tsang, I. N. Lin, H. F. Cheng
Applied Phys. Lett. 77. 43622 (2000)
"Size Dependence of Heavy Fermion Behavior in CeAl2"
C. R. Wang, Y. Y. Chen, Y. D. Yao, S. F. Pan, J. C. Ho, and C. L. Chang
Physcia B, 284-288, 1738-1739 (2000)
NSC88-2112-M-001-026






1999

"X-ray Absorption Study in Nanocrystalline Fe, Co, Ni and Cu Metallic Powders"
L. Y. Jang, Y. D. Yao, Y. Y. Chen
NanoStructured Materials V12, 577-580 (1999)
NSC88-2112-M-001-038
"Heavy-Fermion Behavior in CeAl2 nanoparticles"
Y. Y. Chen, Y. D. Yao, T. K. Lee, W. C. Liu, H. C. Chang, K. Y. Lin, Y. S. Lin, Z. C. Wang and W.H. Li
NanoStructured Materials 12, 719-724 (1999)
NSC87-2732-M-001-007
"Novel Magnetism and Superconductivity in A Ru-Based Double Perovkite"
M. K. Wu and D. Y. Chen, F. Z. Chien, D. C. Ling, Y. Y. Chen, H. C. Ren
International Journal of Moden Phsics B, 13, 3585-3590 (1999)
"X-ray Absorption Study in Nanocrystalline Fe, Co, Ni and Cu Metallic Powders"
L. Y. Jang, Y. D. Yao, Y. Y. Chen
NanoStructured Materials V12, 577-580 (1999)
NSC88-2112-M-001-038






1998

"Heavy-Fermion Behavior in CeAl2 nanoparticles"
Y. Y. Chen, Y. D. Yao, T. K. Lee, C. Tse, W.C. Liu, H.C. Chang, K. Y. Lin, Y. S. Lin, Z. C. Wang and W. H. Li
Chinese Journal of Physics 36, 468-473 (1998)
NSC86-2112-M-001-038
"Magnetic Ordering of Ce in Heavy -Fermion Compound Ce3Al"
W.-H. Li, J. C. Peng, Y.-C. Lin, K. C. Lee, J. W. Lynn and Y. Y. Chen
J. Appl. Phys. 83, 6426-28 (1998)
NSC87-2112-M-008-017
"The Metal-Insulator Transition in Al-Pd-Re Quasicrystals"
Chang-Reng Wang, Heng-Shun Kuan, S. T. Lin, and Y. Y. Chen
Journal of the Physical Society of Japan 67, 2383-87 (1998)
"Low Temperature Heat Capacity of Polyaniline and Polyaniline-PMMA Blends"
A. Raghunathan, P. K. Kahol, J. C. Ho, Y. Y. Chen, Y. D. Yao, Y. S. Lin and B. Wessling
Physical Review B 58, Rapid Communications, R15955-58 (1998)






1997

"X-ray Absorption Studies of Nanocrystalline Ni"
L. Y. Jang, Y. D. Yao, Y. Y. Chen and Y. Hwu
NanoStructured Materials V9, 531-534 (1997)
NSC85-0208-M-001-020
"Structure, Crystal Fields, Magnetic Interaction and Heavy Fermion Behavior in (Ce1-xLax)3Al"
Y. Y. Chen, Y. D. Yao, B. C. Hu, C. H. Jang, J. M. Lawrence, H. Huang and W. H. Li
Physical Review B. 55. 5937-5943 (1997)
NSC84-2112-M-001-033 &NSC85-2112-M-008-027
"The Electrical Resistivity and Specific Heat of NiGa"
L.-S. Hsu, Y. D. Yao and Y. Y. Chen
Modern Physics Letters B 11, 407-414 (1997)
NSC83-0208-M-018-001 & NSC85-2112-M-018-006
"Calorimetric Studies of Superconducting (La1-xThx)NiC2"
W. H. Lee, H. K. Zeng, Y. Y. Chen, Y. D. Yao and J. C. Ho
Solid State Communications. 102, 433-436 (1997)
NSC85-2112-M-194-012-PH
"Magnetic Field Dependence of Low Temperature Heat Capacities of GdBa2Cu4O8"
J. C. Ho, Y. Y. Chen, Y. D. Yao, W. S. Huang, S. R. Sheen, J. C. Huang, M. K. Wu
Physica C, 282-287, 1403 (1997)
"Magnetization Study in Fe3O4/MgO Superlattices"
G. Chern, Y. D. Yao, Y. Y. Chen, S. C. Lai and Y. R. Chean
IEEE Transaction Magnetics V33, 3700-3702 (1997)
"Anisotropic Magnetic and Calorimetric Properties of the Incommensurate Modulated Bi2Sr2PrCu2O8+ Single Crystal"
H. C. Ku, T. I. Hsu, Y. Y. Hsu, T. J. Lee, K. W. Yeh, Y. Huang, J. Y. Lin, S. J. Chen, H. D. Yang, Y. Y. Chen, J. C. Ho and X.-G. Li
Chinese Journal of Physics 35, 903 (1997)
NSC86-2112-M-007-007&-025






1996

"Magnetic Anisotropy Effects in Nano-Cluster Nickle Particles"
Y. D. Yao, Y. Y. Chen, M. F. Tai, D. H. Wang and H. M. Lin
Materials Science and Eng.: A 217-218, 281-285 (1996)
NSC-84-2745-X-001-001 & NSC84-2745-X-194-001
"Low-temperature specific heat of Pd nanocrystals"
Y. Y. Chen, Y. D. Yao, S. H. Lin et al.
Czechoslovak J of Physics 46, 2369-2370 (1996)
"Superconducting and Calorimetric Properties of the Metastable Palladium Borocarbide ThPd2B2C"
P. J. Jiang, Y. Y. Hsu, Y. B. You, H. C. Ku, J. C. Ho, S. H. Lin, Y. D. Yao and Y. Y. Chen
Chinese Journal of Physics, 34, 646 (1996)
NSC-85-2112-M-007-043
"Transport Properties of La0.67Ca0.33MnO3"
S. N. Bai, Y. Y. Chen, Y. D. Yao, L. H. Chen, S. H. Lin and Y. Liu
Chinese Journal of Physics, 34, 798 (1996)






1995

"Low Temperature Calorimetric Properties of Zinc Ferrite Nanoparticles"
J. C. Ho, H. H. Hamdeh, Y. Y. Chen, S. H. Lin, Y. D. Yao, R. J. Willey and S. A. Oliver
Physical Review B 52, 10122-126 (1995)
NSC82-0208-M-001-148
"Specific Heat of Fine Copper Particles"
Y. Y. Chen, Y. D. Yao, B. T. Lin, C. T. Suo, S. G. Shyu and H. M. Lin
NanoStructured Materials 6, 597-600 (1995)
NSC84-2112-M-001-033 and NSC84-2112-M-001-042
"Magnetic Susceptibility and Low Temperature Specific Heat of Palladium Nanocrystals"
Y. Y. Chen, Y. D. Yao, S. U. Jen, B. T. Lin, H. M. Lin, C. Y. Tung and S. S. Hsiao
NanoStructured Materials 6, 605-8 (1995)
NSC-83-0208-M-001-080 and NSC84-2112-M-001-042
"Thermal and Magnetic Studies of Nanocrystalline Ni"
Y. D. Yao, Y. Y. Chen, C. M. Hsu, H. M. Lin, C. Y. Tung, M. F. Tai, D. H. Wang, K. T. Wu and C. T. Suo
NanoStructured Materials 6, 933-936 (1995)
NSC84-2112-M-001-042
"Magnetic Study of Both Nitrified and Oxidized Co Particles"
H. M. Lin, C. M. Hsu, Y. D. Yao, Y. Y. Chen, T. T. Kuan, F. A. Yang and C. Y. Tung
NanoStructured Materials 6, 977-80 (1995)
NSC81-0405-E-036-08
"Coexistence of Antiferromagnetic Order and Superconductivity with TN higher than Tc in DyNi2B2C"
M. S. Lin, J. H. Shieh, Y. B. You, Y. Y. Hsu, J. W. Chen, S. H. Lin, Y. D. Yao, Y. Y. Chen, J. C. Ho and H. C. Ku
Physica C 249, 403-8 (1995)NSC84-2112-M007-003 and -038

"Specific Heat Study of Nanocrystalline Palladium"
Y. Y. Chen, Y. D. Yao, S. U. Jen, B. T. Lin, H. M. Lin, C. Y. Tung and S. S. Hsiao
Phys. Rev. B 52, 9364-69 (1995)
NSC-83-0208-M-001-080
"A comparative Study of Low Temperature Heat Capacities between Zinc Ferrite and Magnesium Ferrite Nanoparticles"
J. C. Ho, H. Hamdeh, S. H. Lin, Y. Y. Chen, Y. D. Yao, R. J. Willey
Chinese Journal of Physics 33, 707 (1995)
NSC82-0208-M-001-148






1994

"Two Dimensional Thermodynamic and Magnetic Properties in Copper Nanocrystals"
Y. Y. Chen, Y. D. Yao, B. T. Lin, S.G. Shyu and H. M. Lin
Chinese Journal of Physics 32, 479 (1994)
NSC-82-0208-M-001-148
"Upper Critical Magnetic Field and Specific Heat Studies of LaCU"
C. W. Chen, Y. Y. Chen
Solid State Communications, 92, 181-4 (1994)
"Influence of Crystal Structural on the Magnetoresistance of Co/Cr Multilayers"
Y. Liu, J. C. A. Huang, Y. D. Yao, C. H. Lee, K. T. Wu, C. L. Lu, S. Y. Liao, Y. Y. Chen, N. T. Liang, W. T. Yang, C. Y. Chen and B. C. Hu
J. Appl. Phys., 76, 6516-18 (1994)
NSC83-0208-M001-082
"Magnetoresistance Study in Co-Cr Superlattices and Films"
Y. D. Yao, Y. Liou, J. C. A. Huang, S. Y. Liao, C. H. Lee, K. T. Wu, Y. Y. Chen, C. L. Lu and W. T. Yang
Chinese Journal of Physics. 32. 863-9 (1994)
NSC84-2112-M001-042
"Aqueous Coprecipitation Synthesis of Nd1.85Ce0.15CuO4 Superconductors"
Y. D. Yao, J. K. Wu, K. T. Wu, Y. Y. Chen, C. Tien and D. S. Hung
Physica C, 235-240, 553-4 (1994)
NSC82-0201-M194-016






1993

"Magnetic and Calorimetric Studies of Gd-Ordering in TlBa2GdCu2O7-x"
Y. Y. Chen, C. C. Lai, J. C. Ho, and H. C. Ku
Physical Review B 47, 12178-181 (1993)
NSC-82-0212-M-001-113
"Optical and magnetic studies of NdFeB films"
Y. D. Yao, K. T. Wu, Y. Y. Chen and D. N. Hsu
Journal of Applied Physics 73 (10) (1993)
NSC-80-0208-M-030-16
"How Would Silicon Affect Magnetic and Transport Properties of (Fe-V)80(BSi)20 Glasses"
S. U. Jen, Y. Y. Chen, J. S. C. Jang and C. H. Tsau
Journal of Magnetism and Magnetic Materials 125,315-318 (1993)
"Low Temperature Crystal Structures of Heavy-Fermion Compounds Ce3Al and Ce3Sn"
S. Y. Wu, W. T. Hsieh, W-H. Li, K. C. Lee, and Y. Y. Chen
Chinese Journal of Physics V3, 663-673 (1993)
NSC-82-0618-M-008-074






1992

"Electrical and Magnetic Studies of Co-Pt Alloys"
S. J. Tzeng, S. U. Jen, Y. D. Yao, Y. Y. Chen and T. P. Chen
Journal of Magnetism and Magnetic Materials 104-107, 889 (1992)
"Electrical Resistivity of Ti0.862Al0.102V0.0306 Alloy between 4 and 1000 K"
S. J. Tzeng, J. J. Lin, Y. D. Yao and Y. Y. Chen
Journal of the Physical Society of Japan 61, 674 (1992)
"Anomalous Pr Ordering in the new TlBa2PrCu2O7-x Compound"
C. C. Lai, B. S. Chiou, Y. Y. Chen, H. C. Ku and J. C. Ho
Physica C 202,104 (1992)
NSC-81-0208-M-007-02






1991

"Electrical Resistivity, Magnetization, and Grain-Boundary Precipitate in Nickle-Rich Nickle- Indium Alloys"
Y. D. Yao, Y. Y. Chen, T. H. Chuang, C. Kung, and C. J. Lin
J. Appl. Phys. 69 (8), 5361 (1991)
"The Effect of Ag Doping on the Low Temperature Specific Heats of Nd1.85Ce0.15CuAgO4-y"
Y. Y. Chen, Y. D. Yao and M. K. Wu
Physica C 185-189, 1355 (1991)
NSC-79-0208-M-001-73
"Calorimetric Study of YBa2Cu3Ox, Bi1.6Pb0.4Sr2Ca2Cu3Oy and Nd1.85Ce0.15CuOz between 300 and 750 K"
Y. D. Yao, Y. Y. Chen, Y. C. Chan and M. K. Wu
Physica C. 185-189, 1407 (1991)
NSC-80-0204-M-001-05






1990

"Ferromagnetic Correlations in Heavy Fermion Compounds"
J. M. Lawrence, Y. Y. Chen, J. D. Thompson, and J. O. Willis
Physica B 163, 56-58 (1990)
NSC-79-0208-M-001-73
"Magnetization Study on Grain Boundary Precipitation in a Ni-8at.% Sn Alloy"
Y. D. Yao, Y. Y. Chen, T. J. Li, and T. H. Chuang
J. Appl. Phys., 67(9), 4832 (1990)
"Electrical Resistivity, Magnetization, and Grain Boundary Precipitates in Ni-Sn Alloys"
Y. D. Yao, Y. Y. Chen, S. J. Tzeng and T. H. Chuang
Phys. Stat. Sol. (A) 121, 213 (1990)






1989

"Thermodynamic Behavior of the Heavy Fermion Compounds Ce3X (X=Al, In, Sn)"
Y. Y. Chen, J. M. Lawrence, J. D. Thompson and J. O. Willis
Phys. Rev. B 40, 10766 (1989)
NSC-78-0208-M-001-71






1987

"Pressure Dependence of the Resistivity of Ce3Al"
J. M. Lawrence, Y. Y. Chen, J. D. Thompson and H. A. Borges
"Theoretical and Experimental Aspects of Valence Fluctuations and Heavy Fermions", Edited by L. C. Gupta and S. K. Malik, 433 (1987)
"Coherence in CePd3"
J. M. Lawrence, Y. Y. Chen and J. Thompson
"Theoretical and Experimental Aspects of Valence Fluctuations and Heavy Fermions", Edited by L. C. Gupta and S. K. Malik, 169 (1987)
"Pressure Investigation of the New Kondo Lattice System Ce3Sn, Ce3In and Ce3Al"
J. D. Thompson, Z. Fisk, Y. Y. Chen and J. M. Lawrence
J. Less. Comm. Met. 127, 385-390 (1987)






1985

"Two Energy Scales in CePd3"
J. M. Lawrence, Y. Y. Chen and J. D. Thompson
Phys. Rev. Lett. 54, 2537 (1985)
"Lawrence, Thompson & Chen Respond"
J. M. Lawrence, Y. Y. Chen and J. D. Thompson
Phys. Rev. Lett. 55, 1702 (1985)

(B) Conference Paper
2013

"Thermoelectric power factor in Topological insulator Bi2-xSbxTe3-ySey"
T. C. Hsiung, T. Y. Chen, L. Zhao, Y. H. Lin, Y. Y. Chen
APS march meeting
Baltimore, Maryland, March 18-22 (2013)
Invited talk
"Fabrication, characterization and measurement of nanostructure thermoelectric materials-from nanostructure composite to nanowire"
Y. Y. Chen
Taiwan-Japan thermoelectricity
Taipei, April 22 (2013)
"Thermoelectric property measurement of an individual Bi1.75Sb0.25Te2.02 nanowire"
Ping-chung Lee, and Prof. Yang-Yuan Chen
10th Asian Thermophysical Properties Conference (ATPC 2013)
Jeju, Korea, Sep. 29 - Oct. 3 (2013)




2012

"Thermoelectric performance enhancement in Bi-Sb-Te composites"
T. W. Lan, C. C. Chang, Y. C. Chien, C. H. Chien, M. K. Wu, and Y. Y. Chen
International conference of Thermoelectricity
Denmark, July 9-12 (2012)




2011

Invited talk
"Nanotechnology on Thermoelectricity for Renewable Energy Application"
Y. Y. Chen
BIT's 1st Annual World Congress of Nano-S & T
Dalian, Oct. 23-26 (2011)




2010

"ZT enhancement in thermoelectric Bi2Te3 Nanowires and nanostructure composite"
Y. Y. Chen
The 11th Asia Pacific Physics Conference (APPC11)
Shanghi, Nov. 14-18 (2010)
"Fabrication and characterization of electrodeposited bismuth telluride films and nanowires"
C.-L. Chen, Y.-Y. Chen, S.-J. Lin, J. C. Ho, P.-C. Lee, C.-D. Chen, S. R. Harutyunyan
ICT 2010
Shanghi, May 29 (2010)
"The techniques and measurements of thermal properties of a single nanowire"
M. N. Ou, C. L. Chen, P. C. Lee, T. C. Hsiung, L. J. Chou, C. L. Hung, Y. Y. Chen
ICT 2010
Shanghi, May 29 (2010)
"Quantum Size effects on mixed-valence compound CePd3"
Y. H. Lin, C. L. Dong, S. H. Wua, Y. Y. Chen
SCES 2010, the International Conference on Strongly Correlated Electron Systems
Santa Fe, New Mexico, June 27 – July 2 (2010)




2009

"Nanofabrication and Characterization of the low-dimensional systems"
Y. Y. Chen, C. D. Chen, M. N. Ou, S. R. Harutyunyan, Mohindar S. Seehra
7th International Conference on Semiconductor Micro- & Nanoelectronics (ICSMN-2009)
Yerevan, Armenia, July 3-5 (2009)
"A platform for transport and thermodynamic property measurements of a conductive nanowires"
Min-Nan Ou, Cheng-Lung Chen, Ping-Chung Lee, Chii-Dong Chen and Yang-Yuan Chen
IEEE Nano 2009 Conference
Genoa, Italy, July 26-30 (2009)
"Thermoelectric transport properties of bismuth telluride nanowires"
C. L. Chen, P. C. Lee, C. T. Chen, S.R. Harutyunyan,Su-Jien Lin and Y. Y. Chen
28th International Conference on Thermoelectrics and the 7th European Conference on Thermoelectrics
Freiburg, Germany, July 26-30 (2009)
"Enhanced figure of merit in Bi coated Bi2Te3 nanocomposites"
T. W. Lan, Y. C. Chen, S.G. Shyu, Y.K. Kuo and Y. Y. Chen
IEEE Nano 2009 Conference
Genoa, Italy, July 26-30 (2009)




2008

"Thermal and transport properties of a single nickel nanowires"
M.-N. Ou, Y. Y. Chen, M. K. Wu, T.J. Yang, P. C. Lee, S. R. Harutyunyan, C. D. Chen, S. J. Lai
APS March Meeting 2008
New Orleans, Louisiana, March 10-14 (2008)
"Thermoelectric properties of Bi2Te3 films and nanowire arrays"
C.L. Chen, Y.Y. Chen, P. C. Lee, C. T. Chen, S. R. Harutyunyan, S. J. Lai, C. D. Chen, S. J. Lin
APS March Meeting 2008
New Orleans, Louisiana, March 10-14 (2008)
"Thermal conductivity measurements of Bi2Te3 nanowire arrays in anodic aluminum oxide template by 3ω method"
P.C. Lee, C. L. Chen, M. N. Ou, S. R. Harutyunyan, Y. Y. Chen
APS March Meeting 2008
New Orleans, Louisiana, March 10-14 (2008)
"A setup for simultaneously measureing the thermopower and electrical conductivity of $\mu $m-thickness specimens"
C. T. Chen, P. C. Lee, Y. Y. Chen, S. R. Harutyunyan
APS March Meeting 2008
New Orleans, Louisiana, March 10-14 (2008)




2007

"Disorder and quantum size effects on Kondo interactions and magnetic correlation in CePt2"
Y.Y. Chen*, P. H. Huang, M. N. Ou, C.R. Wang, Y. D. Yao, T. K. Lee, M.Y. Ho, J. M. Lawrence and C. H. Booth
APS march meeting 2007
Denver, USA, March 13-17 (2007)
"Eradication of fire ants (Solenopsis invicta) using liquid nitrogen and heated gas pulses"
Yang-Yuan Chen, Hui-Min Lin, Yu-Ching Tseng, C. T. Chen, C. J. Ma, C.C. Lin
2007 Fire ant conference
Gainesville, USA, April 23-26 (2007)
"Utilization of odor sensibility of dogs in detecting the red imported fire ant (Solenopsis invicta) in Taiwan "
Eva Yi-Fan Huang, Po-Yung Lai, William Wei-Lien Chyi, Kevin Tsair-Bor Yen, Yang-Yuan Chen
2007 Fire ant conference
Gainesville, USA, April 23-26 (2007)
"RuO2-Al2O3 Composite Thin Film Thermometer and its Thermodynamic Applications "
Y. Y. Chen, P. C. Chen, C. B. Tsai, K. I. Suga and K. Kindo
TEMPMEKO 2007
Calgary, Canada, May 21-25 (2007)
"Thermal and transport properties of a single nickel nanowires"
M. N. Ou, S. R. Harutyunyan, S. J. Lai, C. D. Chen, T. J. Yang and Y. Y. Chen
The 1st International Symposium on Advanced Magnetic Materials and Applications
Jeju island, Korea, June 28 - June 1 (2007)




2006

"Disorder and size effects in Kondo lattice nanoparticles"
Y. Y. Chen, P. H. Huang and M. N. Ou, J. M. Lawrence, C. H. Booth
2006 APS march meeting
Baltimore, USA, March 13-17 (2006)
"Thermodynamic Properties of Bi2Te3 Nanowire Arrays"
C. L. Chen, Y. Y. Chen
Sixteenth Symposium on Thermophysical Properties
Boulder, Co. USA, Aug. 2-4 (2006)
"Size dependence of superparamagnetic and anisotropic properties in β-FeSi2 nanoparticles"
Y. Y. Chen, C. B. Tsai, Y. H. Wang, S. Neeleshwar, P. C. Lee and C. R. Wang
International Conference on Magnetism
Kyoto, Japan, Aug. 20-25 (2006)




2005

"Size and alloying effects on magnetic interactions in CePt2+x (x=0,0.5 and 1)"
Y. Y. Chen, P. H. Huang, C. T. Chen, and P. C. Lee, J. M. Lawrence, and C. H. Booth
2005 APS march meeting
Loa Angela, California, March 20-28 (2005)
"Size Effects On Superconductivity And Magnetism in CeRu2"
Y.Y. Chen, T. S. Houng, and B. J. Chen
24th international Conference on Low Temperature Physics
Orelando, Florida, Aug. 10-17 (2005)




2004

'Magnetoresistance and microscopy studies in U-shape-patterned permalloy nano-wires"
Y. D. Yao, Y. Y. Chen, K. W. Cheng, J. L. Tsai, S. F. Lee and Y. Liu
2004 Internah/MMM joint Conference
Anaheim, Jan. 5-9 (2004)
" Lattice disorder and size-induced Kondo behavior in CeAl2 and CePt2+x"
C. H. Booth, S.-W. Han, E. D. Bauer P.H. Huang, Y.Y. Chen, J.M. Lawrence
2004 APS march meeting
Montreal, Canada, March 22-26 (2004)
"Substitution and size effects on magnetic prperties in CePt2+x"
Y. Y. Chen, C. R. Wang and P. H. Huang
2004 APS march meeting
Montreal, Canada, March 22-26 (2004)
"Heat capacity, magnetic susceptibility, EPR, and dc conductivity of some conducting polymers"
P. Kahol, J. Ho, S. Deterich, Y. Y. Chen, C. R. Wang, S. Neeleshwar, C. B. Tsai and B. Wessling
2004 APS march meeting
Montreal, Canada, March 22-26 (2004)




2002

"Magneticproperties in CePt2+x nanoparticles
Y. Y. Chen, C. R. Wang, and P. H. Huang
The 2002 international Conference on Science and Technology of Synthetic Metals
Shanghai, China, June 29 - July 5 (2002)
'Transitions of magnetic order and Kondo behavior in Ce3Al11"
Y. Y. Chen, C. R. Wang, M. N. Ou, P. H. Huang and J. C. Ho
The 23rd international Conference on Low Temperature Physics
Hiroshima, Japan, Aug. 20-27 (2002)




2001

"Magnetic properties and superconductivity in CeCo2 nanoparticle"
C.R. Wang, Y.Y. Chen, Y.D. Yao
2001 March Meeting of the American Physical Society
Seattle, WA. (2001)




2000

"The Effect of Annealing Time on the Electronic and Atomic Structures of the Fe-Cu-Nb-Si-B Alloys"
Y. K. Chang, Y. H. Cheng, W. F. Pong, M. H. Tsai and Y. Y. Chen
8th International Conference on Electronic Spectroscopy and Structure
Berkeley, CA., Aug 8-12 (2000)




1999

C.R. Wang, Y.Y. Chen, Y.D. Yao,S.F. Pan, J.C. Ho and C.L. Chang
" Size Dependence of Heavy Fermion Behavior in CeAl2 "
22nd International Conference on Low Temperature Physics. Espoo and Helsinki, Finland, Aug. 4-11, (1999)




1998

J.C. Ho, A. Raghunathan, Y.Y. Chen , Y.D.Yao, Y.S. Lin and B. Wessling
"Low temperature specific heats of PANI and PANI-PMMA blends"
1998 March Meeting of the American Physical Society, Los Angeles, California (1998).
Y.Y. Chen, Y.D. Yao, T.K. Lee
"Heavy-fermion behavior in CeAl2 Nanocrystals"
1998 March Meeting of the American Physical Society, Los Angeles, California (1998).




1997

J.C. Ho, Y.Y. Chen, Y.D. Yao, W.S. Huang, S.R. Sheen, J.C. Huang and M.K. Wu
"Magnetic Field Dependence of Low Temperature Heat Capacities of GdBa2Cu4O8"
M2S-HTSC Beijing (1997).
J.C. Ho, W.H. Lee, H.K.Zeng, Y.Y. Chen and Y.D.Yao
"Calorimetric Studies of Superconducting (La1-xThx)NiC2(x=0.1-0.9)"
1997 March Meeting of the American Physical Society, Kansas City, Missouri (1997).
Y.Y. Chen, Y.D. Yao, H.Lin, C. Tung
"Quantum Size Effects in Pd Nanocrystals"
1997 March Meeting of the American Physical Society, Kansas City, Missouri (1997).
M.K. Wu, D.Y. Chen, D.C. Liang, P.Z. Chien, Y.Y. Chen and H.C. Ren (1997)
"Superconductivity in Ru-Based Double Perovskite Oxides"
1997 Taiwan International Conference on Superconductivity & 5th Workshop on Low Temperature Physics Aug 13-16.
Y.Y. Chen and Y.D. Yao (1997)
"Low Temperature Magnetic and Thermal Properties of Nanocrystalline CeAl2"
1997 Taiwan International Conference on Superconductivity & 5th Workshop on Low Temperature Physics Aug 13-16.
Y.Y. Chen and Y.D. Yao (1997)
"Magnetic Susceptibility and Specific Heat Study of the Heavy Fermion CeAl2"
International Conference on Magnetism 1997, Cairns, Australia 27July-1 Aug.
L.Y. Jang, Y.D. Yao and Y.Y. Chen (1997)
"Electronic Quantum-Size Effects Stodied by XAFS in Nanocrystalline Ni Powders"
Soft-Magnetic Material 13 Conference, Sept. 24-26, France




1996

Y.Y. Chen, Y.D. Yao and W.J. Cheng
"Quantum Size Effects in Pd Nanocrystals"
1996 Joint Workshop on Low Temperature Physics and High Temperature Superconductor , Taiwan, ROC, 11-12 October Chai-Yi




1995

H.H. Hamdeh, J.C. Ho, S.A. Oliver, R.J. Willey, J.Kramer, Y.Y. Chen, S.H. Lin, Y.D. Yao, M. Daturi and G. Busca (1995).
"Ferrimagnetic Zinc Ferrite Fine Powders"
IEEE Transation on Magnetic, Proceedings of International Magnetics Conference,
San Antonio April 18-21,V31,3808.
NSC82-0208-M-001-148
Y.Y. Chen, Y.D. Yao, S.U. Jen, B.T. Lin, H.M. Lin and C.Y. Tung (1995).
"Calorimeteric and magnetic Properties of Nanocrystalline Palladium"
Proceedings of March Meeting of the American Physical Society,
San Jose 20-24 march, P692.
NSC84-2112-M-001-042
J.C. Ho, H.H. Hamdeh, S.H. Lin, Y.D. Yao, Y.Y. Chen, R.J. willey and S.A. Oliver
"Low Temperature Heat Capacity of Zinc Ferrite Nanoparticles"
Proceedings of March Meeting of the American Physical Society,
San Jose 20-24 march, P 514.
NSC82-0208-M-001-148
J. C. Ho, H. Hamdeh, S. H. Lin, Y. Y. Chen, Y. D. Yao, R. J. Willey (1995)
"A comparative Study of Low Temperature Heat Capacities between Zinc Ferrite and Magnesium FerriteNanoparticles"
Invited talk, the Third Workshop on Low Temperature Physics, Aug. 4-5.
NSC82-0208-M-001-148




1994

Y.D. Yao, Y.Y. Chen, H.M. Lin, C.M. Hsu, T.T. Kuan, F.A. Yang, and C.Y.Tung.(1994)
"Magnetic Study of both nitrified and Oxidized Co particles"
Second International Conference on Nanostructured Materials Oct 3-7.
NSC 82-0208-M-001-148
Y.Y. Chen, Y.D. Yao, S.-U. Jen and B.T. Lin, H.M. Lin, C.Y. Tung, S.S. Hsiao (1994).
"MagneticSusceptibility and Low Temperature Specific Heats of Palladium"
Second International Conference on Nanostructured Materials Oct 3-7.
NSC 83-0208-M-001-080.
Y.Y. Chen, Y.D. Yao, B.T. Lin, C.T. Suo, S.G. Shyu, and H.M. Lin (1994).
"Specific Heat of Copper Fine Particles"
Second International Conference on Nanostructured Materials Oct 3-7.
NSC 82-0208-M-001-148




1993

Y.Y. Chen (1993).
"Low Temperature Specific Heats in Magnetic Fields"
Conference on Low Temperature Specific Heats, May 22-23, Taiwan.
NSC 83-0208-M-001-080




1992

Y.Y. Chen, Y.D. Yao and S.U. Jen and J. M. Lawrence (1992).
"Effect of Thermal Treatment on the Electrical and Magnetic Properties of Ce3In".
7th Int. Symposium on Magnetic Anisotropy & Coercivity in RE-Tm Alloys, 79.
NSC81-0208-M-001-74
Y.Y. Chen (1992).
"An Automated Relaxation Calorimeter"
Conference on Low Temperature Specific Heats, April 10-11, Taiwan.
NSC-81-0208-M-001-74
Y.D. Yao, K.T. Wu, Y.Y. Chen and D.N. Hsu (1992)
"Optical and Magnetic Studies of NdFeB Films"
37th Annual Conference on Magnetism & Magnetic Materials, December 1-4 (1992)




1990

Y. D. Yao, Y. Y. Chen, T. J. Li, S. J. Tzeng and T. H. Chuang (1990).
"Grain Boundary Precipitate, Electrical Resisitivity and Magnetization in Nickle Alloys".
Abstract of the Fourth Asia Pacific Physics Conference, August 13-17,110.
C. C. Chen, Y. Y. Chen, Y. D. Yao and R. L. Luo (1990).
"Effect of La Substitution on the Phase Transition in Ce3Al Compound"
Abstract of the Fourth Asia Pacific Physics Conference, August 13-17, 257.
Y. D. Yao, J.W. Chen, Y. Y. Chen and C.S. Fang (1991).
"Effects of Ag Doping in the N-type Superconductor Nd-Ce-Cu-O"
Annual Conference on Superconductivity and its application, N.Y.10-20 Sept . (1990)AIP Conference Proceeding No. 219, 130-8.
Y. D. Yao, J. W. Chen, Y. Y. Chen, W. S. Pern, H. A. Yong, I. N. Lin, P. C. Yao, S. J. Yang and S. E. Hsu (1990).
"Thermal Annealing Study of High-Tc YBaCuO and BiSrCaCuO Superconducting Wires"
Mat. Res. Suc. Symp proc. Vol.169.




1989

Y. D. Yao, Y. Y. Chen, Y. H. Kao,J. H. Chen and C. L.Liu,
"Superconducting and Normal State Properties of BiSrCaCuO with Ag and Pb Doping"
Proc. Taiwan Int. Symp. Supercond., 249. (1989)
C. Y. Huang, H. H. Tai ,Y. D. Yao, T.J. Li, Y. Y. Chen and M. K. Wu
"Magnetic, Microstructure, and High-Field Studies of Superconducting 123-AgO Composites"
Proc, Taiwan Int. Symp. Supercond., 84. (1989)
Y. Y. Chen and T. G. Castner
"Noise Measurements on the DuPont Series 1400 Thick Film Resistors"
Bull. of the Am. Phs. Soc., 840. (1989)




1986

"Further Evidence for a 40 K Coherence Scale in CePd3"
Y. Y. Chen, J. M. Lawrence
Bull. Am. Phys. Soc. 31, 498 (1986)
"Low Temperature Coherence in CeSn3"
J. M. Lawrence, Y. Y. Chen and J. D. Thompson
Bull. Am. Phy. Soc. 31, 498 (1986)



(C) Other Publication
Book Chapter:
Y.Y. Chen (2003)
" Low-temperature Ru-Sapphire Film Thermometer and Its Application in Heat Capacity Measurements"
Temperature: Its Measurement and Control in Science and Industry. Volume 7, P 387 American Institute of Physics

Cheng-Lung Chen and Yang-Yuan Chen (2011)
"Cancer Cell Photothermolysis and Gold Nanorod Surface Plasmons"
Nanomedicine and Cancer ISBN 978-1-57808-727-3; September 2011 by Science Publisher (USA)
Yang-Yuan Chen, Cheng-Lung Chen, Ping-Chung Lee, Min-Nan Ou (2011/7)
"Fabrication, Characterization and Thermal Properties of Nanowires"
Nanowires-Fundamental Research, Intech Open Access Publisher, DOI:10.5772/681
出刊後 18 months, 被下載超過 3000 次
出刊後 26 months, 被下載超過 4000 次
Thesis and report:
T. G. Castner and Y. Y. Chen (1988)
"Thick Film Resistors Research"
Progress Report. Univ. of Rochester (1988)
Y. Y. Chen (1987).
"Valence Fluctuations and Coherence in Cerium Based-Compounds"
Ph. D. Thesis, University of California, Irvine (1987)

(D) Invited talk (International or Nationwide Conferences)
"Fabrication, characterization and measurement of nanostructure thermoelectric materials-from nanostructure composite to nanowire"
Y. Y. Chen
Taiwan-Japan thermoelectricity
Taipei, April 22 (2013)
"Nanotechnology on Thermoelectricity for Renewable Energy Application"
Y. Y. Chen
BIT's 1st Annual World Congress of Nano-S & T
Dalian, Oct. 23-26 (2011)
"Size effect on superconductivity and magnetism in CeCo2 and CePt2"
RIKEN-Taiwan workshop on Nano-Science & Nano-technology
Tokyo, Japan, Oct. 9-10 (2002)
"Low-temperature Composite Sapphire-RuO2 Thermometer and Its Application in Heat Capacity Measurements"
8th Temperature Symposium
Chicago, Illinois, Oct. 21-24 (2002)
"Quantum Size Effects in metal, superconductor and Heavy Fermion Nanoparticles"
1999 Taiwan International Conference on Superconductivity & 6th0 Workshop on Low Temperature Physics
Kenting, Taiwan, Aug 17-20 (1999)
"Heavy Fermion Behavior in CeAl2 Nanoparticles"
NANO'98 (Fourth International Confeence on Nanostructured Materials)
Stockom, Sweaden, June 14-19 (1998)
"A comparative Study of Low Temperature Heat Capacities between Zinc Ferrite and Magnesium FerriteNanoparticles"
J. C. Ho, H. Hamdeh, S. H. Lin, Y. Y. Chen, Y. D. Yao, R. J. Willey
The Third Workshop on Low Temperature Physics, Aug. 4-5 (1995)
NSC82-0208-M-001-148

(E) Conference section chairperson
International Symposium on Physics of Magnetic Materials and International Symposium on Advanced Magnetic Technologies (SPMM/ISAMT 2001)
Taipei, Taiwan, May 13~16 (2001)
2nd International Symposium on electronic and Atomic Structures (ISEAS-2)
Tamsui Taiwan Dec. 17-18 (1999)

(F) Patents
US patent 6.480.093 (2000-2025):
"Composite film resistors and method of making the same"
Taiwan patent I264286 (2006-2025):
"Fire ant eradication device using high-pressure heated gas pulses and method thereof"
Taiwan patent I321183 (2010-2026):
"The method of liquid nitrogen ground freezing for underground sewer jack-piping"
Taiwan patent 095135041 (pending, 2006-):
"The detection and eradication of fire ants using trained dog and gas chromatography spectrometers"

(G) Technical transfer
In 2006 the technology of "using liquid nitrogen in ground freezing for underground sewer jack-piping" was transferred to a underground sewer construction company. The loyalty of the technical transfer was paid to Academia Sinica.