The research on ¡uIn situ real-time investigation of cancer cell photothermolysis mediated by excited gold nanorod surface plasmons¡vwas selected as one of 2010 representative works of Academia Sinica
The work by the research team of Dr. Yang-Yuan Chen and Dr. Cheng-lung on photothermolysis of living EMT-6 breast tumor cells triggered by gold nanorods (AuNRs) has been published in Biomaterials, 31, 4104-4112 (2010). It was also selected as 2010 representative research of Academia Sinica. The morphology and plasma membrane permeability of the cells were key indicators to the phenomena. Their result provides useful information on evaluating and improving the performance of Au NRs-based photothermal therapy.

Related websites:
http://www.phys.sinica.edu.tw/


Media Contacts:
Dr. Yang Yuan Chen, Institute of Physics, Academia Sinca
(Tel) 886-2-2789-6725



Nickel Nanowire Cover Article by Physics Institute Researcher Attracts Interest
Research by Research Fellow Yang Yuan Chen of the Institute of Physics featured on the cover of the physics journal Applied Physics Letters reached 1000 downloads within one year of its publication. The article outlined electrical and thermal transport in a nickel nanowire and was featured on the cover of the journal in February, 2008. By the end of December, 2008 it had been downloaded 1033 times.
Much attention has been focused on magnetic nanowires in recent years because of their anticipated future use in nanoscale magnetic devices and due to their importance in fundamental low-dimensional physics. However, to date, most of the studies on transport in ferromagnetic nanowires concentrated on electrical resistivity and magnetoresistivity, and little attention has been paid to heat transport. This paper outlined a study of electrical and thermal transport of a suspended single nickel nanowire.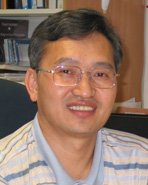 Dr. Chen's research interests include low temperature physics, low temperature specific heat heavy fermion, nanoparticles, thermoelectricity and ground freezing. He received his Ph.D from University of California, Irvine and was a Post-Doctorate at the University of Rochester before joining Academia Sinica.
The group also included Research Fellow Chii Dong Chen and Shuei-Jin Lai of the Institute of Physics, Dr. T. J. Yang of the Department of Electrophysics at National Chiao Tung University in Hsinchu, Dr. S. R. Harutyunyan of the Institute for Physical Research, NAS, Ashtarak-2 in Armenia.
The article can be found in Applied Physics Letters 92, 063101, 2008.
Related websites:
http://www.phys.sinica.edu.tw/

Applied Physics Letters, 92, 063101, 2008
http://scitation.aip.org/getabs/servlet/GetabsServlet?prog=normal&id=APPLAB000092000006063101000001&idtype=cvips&gifs=yes
Media Contacts:
Dr. Yang Yuan Chen, Institute of Physics, Academia Sinca
(Tel) 886-2-2789-6725