2021/05/07(Fri) 11:00 -12:00 五樓第一會議室5th Floor(1st meeting room)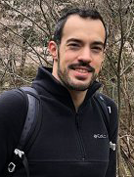 Title
The Schwinger Effect in Topologically Non-Trivial Fields and the Chiral Anomaly
Speaker
Dr. Patrick Copinger
Institute of Physics, Academia Sinica
Abstract
Schwinger pair production is sought in both topological Abelian and non-Abelian fields. For the former, in homogeneous parity-violating fields, the anomalous generation of chirality with mass effects is examined. The importance of asymptotic vacuum states for the calculation of expectation values in an out-of equilibrium setting is elucidated by example of the axial Ward identity [1-2]. Mass effects stemming from the Schwinger effect are seen (not seen) using an out-of (in) equilibrium construction; notably a characteristic exponentially suppressed quadratic mass dependence is seen for out-of equilibrium observables.

Motivated by the above connection, Schwinger pair production is further examined in non-Abelian topological fields. Both the SU(2) BPST instanton and a complex SL(2,C) extension are treated in the worldline formalism. Whereas the BPST instanton is stable, predicting no pair production, it is shown its complex extension does indeed decay via the Schwinger effect [3].

[1] PC, K. Fukushima, and S. Pu, Phys. Rev. Lett., 121, 261602, Dec 2018.
[2] PC and S. Pu, Int. J. Mod. Phys. A, Vol. 35, No. 28, 203005, 2020.
[3] PC and P. Morales, Phys. Rev. D 103, 036004, 2021.