2021/03/30(Tue) 14:00 -16:00 一樓演講廳1st Floor(auditorium)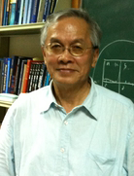 Title
Science and Education: A Bridge too Far?
Abstract
We ask the question why the high performance of Taiwanese high school students in international competitions is not matched by their later achievements in scientific research. We found that there are a number of hindrances/deficiencies in our science education system that could be traced back to the young age.
To overcome these difficulties without shaking the status quo would require the execution of a set of coordinated leap-frog movements/projects involving the Institute of Physics and other institutes of Academia Sinica.