Congratulations to Dr. Yeng-Long Chen for receiving 2011
Post Date:2010-11-30
In order to recruit and encourage young scholars who have an excellent track record and utstanding research potential, Academia Sinica established the "Career Development Award", giving those oung scholars the opportunity to apply for five-year stable research funding. The objective of this award is to promote world-class research talent in
Taiwan on research topics of international competition. Dr. Yeng-Long Chen in our institute received 2011 Career Development Award with his
proposal "Soft matter physics".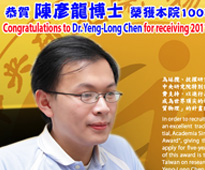 Journal Links: http://www.phys.sinica.edu.tw/files/991130yeng-long_chen.jpg